DNA lets consumers evaluate in-store branding and campaign execution
What if you could have eyes and ears everywhere? What if you had thousands of people around the country, providing you with a flow of insights on how your retail execution and campaigns look like in stores? DNA Plc, one of the leading Finnish telecom service providers, has adopted the power of the Crowd to track and enhance operations, powered with crowdsourced insights directly from the field.
Mobile subscriptions and data & TV services are fiercely competitive markets. The DNA 4G LTE network reaches more than 5 million Finns and covers 99% of Finland's population, putting the company to an admirable position to gain further market share. In Finland, DNA is the largest cable TV operator and the leading pay-tv operator, having grown its wings after entering the mobile subscriptions business. DNA Plc is listed in the Helsinki Stock Exchange.
In-store brand visibility in high season
"Certain dates annually are massively important to us. For example, the strongest Christmas sale weeks in December represent a major peak in our annual sales figures", comments Riikka Pellosniemi, Head of Retail Marketing at DNA. This is easily understood; the whole population shops to buy presents before the stores close and the nation calms down to celebrate the holidays. "These days are the ultimate test of our multi-channel marketing activities preceding the Christmas sale high-point. Everything happens in a minute-schedule, and we need to be able to react immediately on possible hiccups in our retail execution", affirms Pellosniemi.
On high season periods it is impossible to have own field force in every city, retail chains, and in the most important stores to track how the execution looks like. DNA collaborated with Crowst to allow thousands of Crowsters, people who have downloaded the Crowst mobile app, to report directly from the selected Expert, Power, and Tekniset stores. "On the Crowst Dashboard we are able to follow arriving data, including pictures, from the stores in real-time and react immediately if we have to. This enables us to correct possible inconsistencies in stores immediately, with a quick phone call", Pellosniemi comments.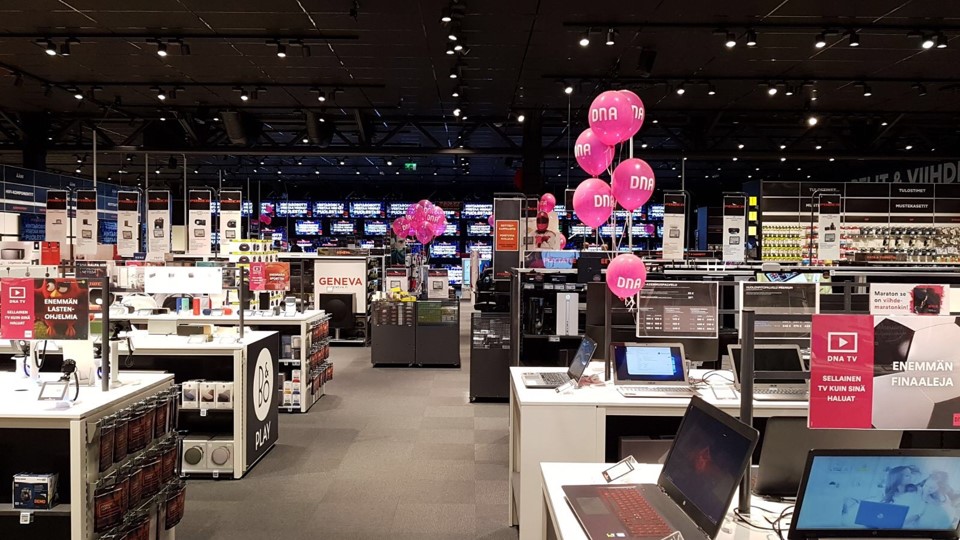 The speed of response makes the difference that can also be seen in the sales figures. "We don't have time to go through extensive research reports when the hot sale days are on. We want to SEE the situation and based on that we want to be able to act, immediately", Pellosniemi continues. "Crowst has powered us with that capability and speed; pictures and automated graphs tell us more than old-school research reports. This is paramount in daily retail execution when hot sales period is on", Pellosniemi underlines.
Campaign visibility and placement
In-store brand visibility is a factor to track and evaluate in its own right. Campaign-specific materials, such as seasonal and thematic content, is another area with its own characteristics. The display period of these materials is usually carefully predefined, down to hours. For the Christmas sale days DNA had created specific campaign materials-, both in digital and print form- to highlight the key product offers.
"Based on the direct consumer view we were also able to compare the impact of different materials and media types, giving us the validation for campaign execution to be deployed"
"Crowst gave us a genuine consumer view, which helped us to see how visible, as well as how efficient, our materials were. Based on the direct consumer view we were also able to compare the impact of different materials and media types, giving us the validation for campaign execution to be deployed", Pellosniemi says, linking the strategic media asset deployment to in-store impact metrics. "Furthermore, we are able to break these insights down and compare the campaign execution in the categories of Mobile Subscriptions and TV-services", Pellosniemi adds.
Location – the missing link
Respondents' demographic data, service feedback, and campaign execution are hygiene in the domain of insights. However, it seems that the aforementioned insights are still sinfully difficult to link to a specific location. The campaign "Whizz" in the store X on Hill Street may look very different than in the store Y on Field Street.
"On measuring in-store excellence, location is the first factor we are thinking of. When we need to optimize our in-store presence on-the-fly we don't care about generic data that ignores location. Crowst has location built in its core, enabling us to make the right calls at the right time when needed", Pellosniemi closes.